HOME
> Text of lecture, on August 2nd in Los Angeles, and August 3rd in San Francisco.(2012)
Hello. It's like a dream that I am standing here.
I am very appreciative of the connection and encounter which led me to come here today.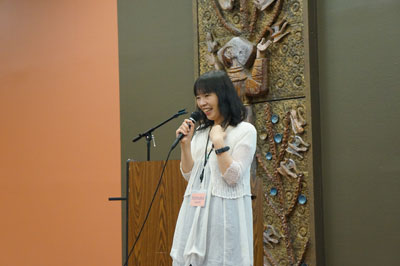 I'm really happy to share this time with you.
I am Katsuko Yamamoto, a special-needs teacher. I consider that my students are my friends. Today, I want to tell you some of their amazing stories and a story about my co-worker, who we all nicknamedMiyapu. I am planning to show a documentary film about him later,

First, Please listen to the story about Ki-chan.
A story about Ki-chan.
I met Ki-chan when I was young, just when I started my career. Ki-chan, was in eleventh grade (17years old). When she was a baby she suffered from a high fever, which left her unable to move her limbs. At the age of three she left her parent's home to be cared for by a special facility, which was near my school.
In the school Ki-chan was a sad, lonely teenager. She almost always sat alone in the classroom, She lowered her head down, her eyes toward the floor, "I am worthless." this was her habitual phrase. I was worried about her.
One day, to my delight, Ki-chan came dashing towards me in the teacher's room. It was the first time I saw her smile. "What happen?" I asked. With a grin from ear to ear, she replied, "My sister is getting
married, I'm going to the wedding." She was so excited. I was so happy for her.
But a few days later I found Ki-chan weeping, her face buried on the desk. "My mother told me not to go to the wedding. She's ashamed of me. She only thinks about my sister. I wish I hadn't been born." She cried and cried. She was devastated.
But I know her mother cared about Ki-chan. Every visitor's day, she left her house while it is dark in the morning, changing trains and buses on a journey that took 4 hours to come. No matter how hard her life was she never missed a visit.
She always told me that she would do anything to help Ki-chan. She was not the kind of person who cared only about Ki-chan's sister. I thought perhaps the mother was worried that Ki-chan's sister might feel embarrassed at the wedding. Or perhaps she was worried that Ki-chan herself might feel uncomfortable amid so much celebration.
There were reasons to support such ideas. In those days, which are more than 30 years ago, the situation was different compared to today. If a special-needs student painted a wonderful picture or wrote a brilliant composition their work was exhibited anonymously. Only their initials were used, or such as "Girl A, Tokyo."
It was the time of concealment even the fact that they were born or that they existed. I really thought it strange to hide who they were. To my innocent question senior teachers told me that it was not the family's fault but the society that was responsible for this situation.
I worried about Ki-chan and her mother. "You shouldn't have given birth to me," Ki-chan once told her mother. I couldn't grasp the depth of her mother's feeling as she was told so.
But I could do nothing to ease their sadness apart from suggesting to Ki-chan to make a wedding present for her sister.

Futamata, is a town located in the mountain area of Kanazawa in Ishikawa prefecture, It is famous for the production of traditional Japanese paper washi. I had been there and learned how to dye cloth.
I bought a roll of white cotton and dyed it crimson, the color of the evening sun. We decided to make a yukata, a type of cotton kimono for her sister. To tell the truth, at first I thought it was too difficult for Ki-chan to make a yukata. She needed help eating and writing because of her disability. I thought I could help her to make a yukata, Ki-chan could use a sewing machine and I can help her sew by hand.

But she insisted on sewing the yukata by hand and by herself. She didn't give up sewing even after she pierced her finger with the needle and stained her practice cloth with blood all over. She kept sewing, saying that this will be a present for my sister's wedding.
To my surprise she made good progress in her sewing. During recess and even after school, she continued sewing the yukata. I was now worried that she might become ill because she was working too hard.
Ten days before the wedding ceremony she completed the yukata.
Two days after she sent it to her sister through a home delivery service, her sister telephoned me. To my surprise she wanted not only Ki-chan but also me to attend the wedding ceremony.
I couldn't decide what I should do because I knew her mother's concerns. I called her mother. She said, "Please attend the wedding. Her sister really wants you too."
So I made up my mind to attend the wedding with Ki-chan.
At the wedding Ki-chan's sister was so beautiful and looked happy.
I was very happy to watch her but I still had fear.

I noticed attendants of the marriage stared at Ki-chan and talked in a whisper.

"Why did her family bring her here? "
"Who will take care of her from now on?"
"If the bride has a baby, will the baby be handicapped?"
Ki-chan must have heard them and became depressed. She said she doesn't want to eat, even though it looked so delicious.
(How is Ki-chan feeling now? Is it better not to come here? ) It was just about the time when I was thinking so, Ki-chan's sister appear out of the door after changing her wedding dress. She was wearing the yukata, which Ki-chan sewed.

The Yukata suited Ki-chan's sister nicely.
Ki-chan and I both were very happy. We couldn't take our eyes off of Ki-chan's sister.
Ki-chan's sister and her groom stood in front of the microphone and called us to the front, and Ki-chan's sister started talking.
"Please look at this yukata. This yukata was sewed by my sister.
When she was small she had a high fever. She lost the use of her hands and feet. Therefore she had to live apart from our family.
I sometimes thought she might have hated me for living with father and mother.
But she sewed such a wonderful yukata. When I got this yukata, my tears did not stop.

I thought how much time she spent to make this yukaka knowing she could hardly sew. I wanted my new family members to know my sister. My sister is my pride. "
Then, there was applause from everywhere.
The inside of the wedding hall was filled with big applause.

Even now I clearly remember that Ki-chan's face glowed with pride and happiness as she overcame her shyness.
I was moved very much. Ki-chan's sister was such a wonderful person! And how great that Ki-chan's heart and work had move her sister so much.

Ki-chan was born as Ki-chan and has lived as Ki-chan. And from now on Ki-chan will live as Ki-chan.
If she lived hiding from the society, how lonely and sad her life would have become?

Ki-chan's mother thanked me after the marriage. I told her that I have done nothing. But her mother told me with tears that my daughter told me "I thank you, Mom for giving birth to me. I'm very happy."
It seemed that Ki-chan's mother had been blaming herself for Ki-chan's condition.

"If I could have taken her to a large hospital even one hour earlier, Ki-chan wouldn't have this difficulty. I have been blaming myself for her condition." Ki-chan's mother said.
Ki-chan became a very bright girl after the wedding. I think that this Ki-chan was her true self.
After this Ki-chan said "I want to learn Japanese dressmaking." And she selected it as her vocation.
I think that not only Ki-chan  but all children always teach me the important fact that each and every human being is precious and important.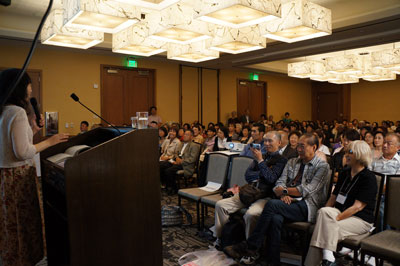 Next I'll talk about Yukie chan.
A story about Yukie-chan
Let me tell you about my favorite friend Yukie-chan. I met her at the special-needs school for children.
Yukie-chan had an illness called MS. MS stands for Multiple Sclerosis. MS deteriorates their eyesight and their ability to move their arms and legs. Through physical therapy they can often regain some vision and mobility, but it's difficult to recover fully. So I always worried for Yukie-chan, how scary it must have been when she suffered a relapse.
Yukie-chan had a habit of saying, "I am glad I have MS. MS helped me learn so many things and brought me such wonderful people. If I didn't have MS, I might have met other wonderful people, but I feel lucky I got to meet the people who are in my life now. I was meant to meet you, Kakko-chan, so I'm glad things are the way they are. Even if I go blind, or lose the ability to move my arms and legs, or end up using a respirator to breathe, I will never regret having MS. I love myself, MS and all."
I admired Yukie-chan for being able to say such things.

One day, Yukie-chan said to me, "Kakko-chan, I am tired." She could hardly move any more. I knew how difficult it was for Yukie-chan, so I didn't know how to respond.
Then, Yukie-chan spoke up. "Kakko-chan, did you think I was wanting to die? There is no way I would think that way. I can't move at all and it's making me tired. Please tell me a story to cheer me up!"

"OK, sure! I have many stories I want to share with you." I said.
This is the story I shared with her, which also became a theme of the movie, "The Miracle Of The Gifted Quarter."
I told her about a TV program which was very interesting.
It was a scientific show about human genes.
The story took place in one African village which Malaria almost wiped out the entire population. The village was barely saved from extinction because of a few who did not contract the disease. The researchers found out that people who had sickle blood cell would not be affected by Malaria.
The doctors then studied the siblings of people with sickle cells and categorized them into 3 groups. The first group was those who had sickle cell with a disability and that was one fourth of the population. The second group was people with sickle cell but without any disabilities and it was a half of the population. And the last group was the ones who had normal red blood cells with no disability and that was one fourth of the population.
When a malaria epidemic broke out, the third group of those without sickle cells died.
What these scientists said was that the half of the population with sickle cell but no disability saved the village from extinction. But those who had sickle cell with disabilities also played an important part. If those disabled people were considered unimportant, eventually there would be no one with sickle cell and this village might have been wiped out completely.
So we could even say that the people who really saved this village from extinction were the one-fourth of the population with disabilities. That's what they said on this program.
In the show, they also said that we owe those people who struggled with illness and disabilities in the past. Because of them, we can enjoy our health and look forward to a bright future. There are people with disabilities and illness in our own society today. If they did not exist, we would not have been here either. For the sake of our future generations, we must offer them our support and recognize the important roles they play.
I shared the story with Yukie-chan. It made her very happy. She said, "I came to realize that my MS has such an important meaning. I am happy to know that." "Kakko-chan," she continued. "What a shame that only some of us know this story. Science proves that every person is important, whether or not some has an impairment. Then, make that common knowledge so everyone in the world knows it, please." I said, "How could I possibly do that". "No," she said, "Don't say no." She looked so serious that I found myself saying, "All right. I promise."
Yukie-chan died soon afterward and it became her last will and testament. I thought, "I have not power. What am I supposed to do?" Then though it is a wonder, a person adapted the story to the screen. The movie "1/4 Miracle" has been screened to audiences of 120,000 people in nearly 1,400 sites in Japan on non-profit basis. The movie has also shown in various countries of the world and was televised in the U.S. I thought that now Yukie-chan's wish is going to come true.
Dr. Niihara of UCLA School of Medicine is an internationally-respected authority on the treatment of sickle-cell disease patients. He watched the movie and said, "If only a little, to reduce the burden of this debilitating disease is our job. Now I am glad to know that I can tell my patients that their sufferings have significant meaning.
In my opinion, we should never forget that the people with illnesses and impairments have saved our life. Our society and governments must support them or so-called vulnerable people.

Now, let's move on to the story about "being happy from feeling of favorite". One day, a boy named Shu-kun asked me, "Kakko-chan, are you happy from feeling of favorite?" "Yes, it makes me happy," I answered. "Do you feel sad for disliking someone/something?" he asked again. "Yes, it makes me feel sad." "Then, Kakko-chan, you told me that you are happy from feeling of favorite and feel sad for disliking someone/something. Please tell me why."
I still remember that I could not find the answer to his question at that time and told him that I even didn't know why.

A story about Kaori-chan
I met Kaori-chan when she was fourteen years old. She rarely smiled or cried, and always refused eye contact. She never vocally spoke. Since she didn't have any disability in her vocal system, I was optimistic about her condition, and I encouraged her to talk to me by telling her, "Say Ah" and "Say Yee".

She reluctantly responded with a sigh, as if she had practiced like that countless times, but she made the shapes of Ah and Yee with her mouth for me. She couldn't make a sound as her breath didn't vibrate her vocal cords. I gave up on the practice because I felt it might have built a wall in between us.

Her mother wrote to me in our journal, "Ever since I had found out about her disability, my only wish was that she would call me Mama even if it was only once.
However, every book I read had taught me that there was no hope for children to start talking if they had not started by the end of the elementary school. Kaori is already in the eighth grade. That means there's no hope for her. One time, she was lost in the middle of a busy intersection in a big city. When I saw her standing alone and unattached without trying to look for me, I realized that she would never be able to call me Mama. I no longer wish for her to be able to speak. Not only the speech practice would harm her confidence but it would also disappoint you greatly. Please don't bother to practice her speech again."
I felt empathy for Kaori-chan's mother because I could tell she's gone through a lot emotionally in the care of her daughter.
As I spent more time with Kaori-chan, my affection toward her grew bigger and bigger. I felt Kaori-chan also started opening up to me, because she was always by my side and staring at me. In the meantime she started copying my habits.
One of my funny habits is rollling up my hair with my fingers unconsciously. I noticed one day that Kaori-chan was doing the same thing. Another strange habit of mine is that when I eat a roll at lunch time, I tend to eat the crust first. When I was wondering why a strip of the roll's crust was hanging from Kaori-chan's mouth, everyone told me she was mimicking me.
One day, a thick book fell from my desk all of the sudden. Kaori-chan looked surprised by the sound, so I looked at her and said "Ah ah". Kaori-chan stared at my face and slowly opened her mouth and said, "Ah ah." I was so excited, so I started shouting,
"Kaori-chan spoke! Kaori-chan spoke!" I was spinning around from the excitement, then I decided to ask her more. I said to Kaori-chan, "Can you say Yee?" She stared at me again and said "Yee."
Next, I asked her, "Kaori-chan, say Mama. Please say Mama." She looked into my face, and slowly said, "Mama."

I thought I had to tell her mother about it. But I didn't know whether she would believe me if I told her over the phone or by a letter. So I decided to visit her. I called her and asked, "I have something to tell you. May I come see you this evening?" Her mother was waiting for us with dinner prepared. We enjoyed conversation for a while, then she asked me, "Well, you said you have something to tell me. What is it all about?"
I told her the story. "You won't believe it. Today, Kaori-chan spoke!" Her face suddenly turned stern.
"I thought I made it clear. I am not wishing for Kaori to speak at all. It only cause suffering for her, so please stop making her practice."
"Wait a minute. I am telling you the truth. Kaori-chan, call your mother, Mama, please." I urged Kaori-chan.
Kaori-chan slowly looked toward her mother and stared at her, then sweetly called her, "Mama."
Her mother's eyes were immediately filled with tears and they spilled over. She said, "Kaori, thank you, thank you." She hugged Kaori-chan for a long time. Then she said to me, "Your affection toward Kaori and Kaori's love toward you caused a miracle at the age of 14."
I was stunned by the word of 'miracle.'
But it made sense to me. When I first met Kaori-chan, she couldn't speak, no matter what I tried asking her, "Say Ah." or "Say Yee." I couldn't understand why all of the sudden she was able to speak.
It's not easy to communicate with each other, is it? I think communication happens only when we truly love each other. It is hard to let the other know how you feel unless you feel loved.

Then, I remembered the question asked by Shu-kun. "Why does Love make you happy?"
When did Love start making us happy? When we started elementary school? When we started preschool? I don't think so. I think Love has started making us happy since we were babies.
I think we are given the gift of "Love is Happiness" from God when we were just a single cell of fertilized egg.
I believe "Love is Happiness" became the drive for us to learn new words, crawl to our parents and make the first steps to walk.
Children at my school always teach me about this. With Love, we can challenge and overcome difficulty and generate courage to face it.

About Augmentative Communication
Thank you for watching the film. I'm so happy and moved to be able to watch this film with you. Before I talk about Miyapu, I'd like to tell you a little about myself. I'm kind of a careless person. For example, I always lose things very easily. I often lose my wallet, cell phone, keys, and even bigger things like bags. I even lose my car and often think, "Why am I like this?" I also have no sense of direction and always get lost. It's difficult for me to get to my destination. I started working at my current school 2? years ago, but I still get lost sometimes and have trouble getting to school.
Such that I am, there's no way I would be able to travel by myself across Japan to give lectures. The person who always supports me is the man who has brought me to America today along with my other supporters. Mr. Kobayashi. Because Mr. Kobayashi always sends me the train tickets, tells me where to get off, and where to wait for him on the platform, I'm able to give lectures throughout Japan. He tells me, "Don't move. Just wait for me until I get there." But, Mr. Kobayashi lives in Shizuoka, near Tokyo, and I live on the other side of the country in Kanazawa by the Japan Sea. Therefore, I couldn't very well ask him to come all the way to Kanazawa for my lectures. So I was telling people I couldn't give lectures in Kanazawa. It was at this time when someone said, "Then, I'll take you to your destinations" and always supported my "work". This person was Mr. Toshiya Miyata, Miyapu.
Mr. Miyata was a colleague at the previous school where I worked. He was very popular with the children and they affectionately called him, "Miyapu." As you saw in the film, "Miyapu" collapsed from a brainstem hemorrhage 3? years ago, on Feb. 20th.
I didn't know it at the time, but apparently, a brainstem hemorrhage is the most devastating type of brain hemorrhage. The brainstem coordinates motor control signals from the brain to the body like breathing, and heart and internal organ functions. Statistically, 90% of the people who have brainstem hemorrhages die. Of the 10% who survive, 80-90% of them remain unconscious. When Miyapu collapsed, his eyes were open, his tongue was sticking out, and he wasn't breathing, so he was put on an artificial respirator. His internal organs, nor anything else, were functioning and it was more than two weeks before he had a bowel movement or urinated. At first, he continually had blood in his stool and vomit.
He was diagnosed with 3 hours left to live. After that, he was told he had three days. One doctor also said, "Even if he does survive, he'll be a vegetable for the rest of his life. He won't be able to move any parts of his body and he'll be a quadriplegic." When I heard this, the first thing I thought was, "They may say Miyapu is unconscious, but he's listening and clearly understands everything. What I've learned from the children I've met over the years is that even the children with the heaviest disability and the comatose patients, everyone can hear and can understand.
For example, one of the children I've met was anencephalic. Because it's not possible to live with the entire brain absent, I think this child was born without a cerebral neocortex, but probably had a brainstem or medulla oblongata. The school principal, who was also a medical doctor, said this child couldn't see, hear, or understand.
Even under these circumstances, the principal said, "Please spend time with her, although she's outside of the school system."
I didn't know what I could do for her. But, when I went by her bed, touched her hands, and talked to her, she was so cute. Overcome by affection for her, I raised her body and rocked her saying, "I love you." "I love you." and also sang to her. Although, I didn't know how important it was to raise her body at the time, I did it unconsciously. Later, I learned it was a very good thing to do.

Back then, it was believed that rest and remaining in bed was important for people with an illness.

But, our bodies have a truly mysterious mechanism. When you lie down, your "rest switch" turns on. But, even if you're healthy, you begin to lose organ function, consciousness, and various abilities. On the other hand, if you raise the body, the "recovery switch" turns on in the damaged areas and the body tries to recover. A healthy person who is kept lying down develops a disorder called, "disuse syndrome."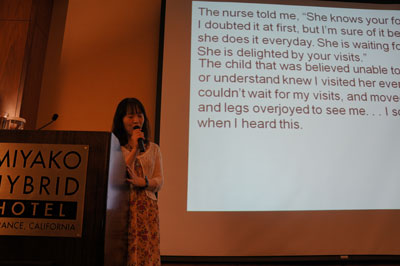 I continued to visit the anencephalic child, raise her body, rock her, and affectionately tell her, "I love you." "I love you." On one of the days when I visited, the nurse told me, "We discovered something incredible." I wondered what it was. The child shared the room with other children who could barely move on their own, but the nurse noticed that recently, there were times when the child moved her arms and legs vigorously. She also noticed that every time, after the child did this, I appeared. The nurse told me, "She knows your footsteps. I doubted it at first, but I'm sure of it because she does it everyday. She is waiting for you. She is delighted by your visits."

The child that was believed unable to hear, see, or understand knew I visited her everyday, couldn't wait for my visits, and moved her arms and legs overjoyed to see me. . . I sobbed when I heard this. I sobbed because this child had spent her life quietly, hardly being spoken to out of the belief that she couldn't hear yet she was actually deeply conscious. And, I sobbed because I felt she thought of me as a special presence.

Eventually, we learned more and more about her. I often played hand games with her. I sang "hand game songs" and made facial expressions that I thought was most likely to entice a response. "One bridge, tickle, tickle." Two bridges tickle, tickle." "Up the stairs, tickle, tickle, tickle." I tickled her and she laughed. I was so happy I told the doctor. He replied, "Well, it's possible to invoke laughter. It's a reflex response." But the next day, I sang "One bridge, tickle, tickle, two bridges tickle, tickle, up the stairs" I stopped. When I stopped singing before the "tickle, tickle," she remained silent for a little while. But then, as if she could wait no longer, she exploded with laughter even before I tickled her. I think she predicted what was coming next, which was fun for her, and this made her laugh.
Not only that, but when I would say things like, "You're so cute." or "I love you so much." she looked very happy. Also, one day the other patients went out on a field trip. I said to the nurse, "It's quiet today, isn't it?" When the nurse responded, "Yes, everyone went out on a 'field trip' today and they're probably having fun," the child's face looked very sad and lonely.
It was a surprise to me that this girl, who had not been out of this [hospital] room since she was born, understood the term "field trip."

While I was also spending time with other children, I realized that children are born understanding the language we use. They recognize flowers and animals although they've never seen them before. I thought, "it's a mystery, but it's as if they're knowledge comes from connecting with the universe. More or less every child recovered when their bodies were raised and rocked, and we brushed their teeth, and talked to them. It's not that I think the school principal was wrong. It's that Until now, it's been the norm to believe that people in a vegetative state won't recover and don't have thoughts.
But I felt doing things differently could change this common belief. When Miyapu collapsed, I thought, "no matter how serious the disability, everyone can still think and understand everything. Therefore, when the doctor said Miyapu would remain in a vegetative state for the rest of his life, I was concerned that Miyapu must be so worried hearing this. And in that moment, for some reason, I had a deep sense that he was OK, so I told the doctor, "He's going to be OK." The doctor was concerned about me and asked, "Do you understand what I'm telling you?" The doctor had observed many cases similar to Miyapu's and knew how this kind of condition would progress over time. And so, he felt a responsibility to explain Miyapu's condition. That's why the doctor said, "He's going to be in a vegetative state and be a quadriplegic for the rest of his life." I told him, "He is going to be alright. Please put your mind at ease."
Under this extremely serious circumstance, the entire hospital staff didn't give up and kept him alive. And because of the support of many and Miyapu's strong will to live, he was able to escape the threat of death.
However, as shown in the film, Miyapu had no family, who could stay with him at the hospital.
He had a younger sister, but she had just given birth. Thus, begun a daily routine of his sister visiting him during the day with her baby, while I visited after my work at the school.
We had before us an obstacle wall of a commonly accepted belief. It's not that anyone was wrong, but based on statistics or common knowledge from the past, Miyapu, who had suffered a severe brainstem hemorrhage, could never heal.
But, as I've said, this was different from what the children had taught me. I believed Miyapu understood everything and there was a way in which he would begin to heal, so, I decided to continue to try.
First, in order to get him up, I thought of having a custom wheelchair made for him. But, the doctor said, "Since he'll spend his entire life in bed and won't go anywhere, he doesn't need a wheelchair."
But I thought differently. So, I repeatedly asked the doctor. Over and over. I even waited for him in front of the restroom to ask. Then, he finally said, " Okay. If it means that much to you, let's ask for a government subsidy and have a custom seating system specifically designed for Miyapu made." And the doctor placed an order for a wheelchair.
But, it wasn't easy helping a limp Miyapu up and putting him in the wheelchair. It was especially difficult for someone like me, who's weaker than anyone.
Even using the training I had received as a teacher at the special needs school, I couldn't lift a small child onto the wheelchair by myself. But, it's over if you give up. By watching YouTube and getting creative, I was able to devise a way to easily lift Miyapu, who weighed 88 kilograms at the time, and get him into the wheelchair.
He was told, "He'll never have the urinary catheter taken out or eat from his mouth again." But that was based on past statistics and accepted common knowledge.

However, I think this was only a numerical value given when no treatment was applied. I'm not sure if the low frequency device on his stomach or the massages were good for him or if getting him up got his brain to begin the recovery process, but he began to urinate even without the urinary catheter.
Even then, Miyapu was told he would never be able to urinate at will. Not that this was wrong, but this was according to the statistics and common knowledge.
With a bedpan under him, I told him to think about urinating for just 10 minutes. "Even if it doesn't come out, let's just think about it." We continued to do this and eventually, he began to urinate in the bedpan. Now, I'm thinking, if he can just control his bladder a little more, he'll be able to use the bathroom.
And one more thing. It was said he'd never be able to communicate again. But this too, was different from what the children taught me. In 30 years, they taught me that there's always a way, as long as you don't give up.

When Miyapu collapsed, we tried to find a way for him to communicate, but it was difficult, at first. To have something to convey, and not be able to do so must be so difficult. When he succeeded, Miyapu used the augmentative communication device called, "Let's Chat" to express, "I have gotten my life back."

First, we wanted to find just one part of his body that he could move.  He could use that part to reply. For example, we could decide that if he blinks once, it's "Yes," twice, "No." Or, if he moves his eyes to the right, "Yes," to the left, "No." But our thoughts can't be expressed with only Yes and No.
It's not easy to reply to questions like, "What would you like to eat today?" or "What's your name?" with Yes and No. Then, we devised a method called "A Ka Sa Ta Na scan". I will now demonstrate. Mr. Kobayashi, would you please help me?
I will ask Mr. Kobayashi what his favorite animal is.
"Please picture the first letter of your favorite animal. I will say A Ka Sa Ta Na. Please raise your hand when I come to the group, which includes the letter. (The Japanese alphabet is in 10 groups; A group, Ka group, etc…)

A, Ka, Sa, Ta, Na. All right. It's in the Na group. (Na group = Na Ni Nu Ne No) Na Ni Nu Ne. OK, Ne. Is the first letter Ne? Then, let's move on to the 2nd letter. A, Ka. It's in the Ka group? Ka, Ki, Ku, Ke, Ko. Is it Ko? Ne Ko (Cat)? Do you like cats?
Thank you for your help. This is the "A Ka Sa Ta Na scan. Miyapu started to move his neck by himself after six months. It's said that it's possible for patients to show improvement within 6 months, but beyond that it's very difficult. Therefore, the Japanese government stops subsidizing for rehabilitation after 6 months.
But, Miyapu began to show noticeable improvement after 6 months. This is also different from what is accepted as common knowledge. Miyapu came to reply with his neck, which now moved.

This "A Ka Sa Ta Na scan" is a very easy method to use, but unfortunately, it isn't widely known. The device called Let's chat" that Miyapu was using in the film does the "A Ka Sa Ta Na scan". Miyapu is able to communicate by pushing the buttons with his hands.
Miyapu said that he would like people to know about his everyday life. He wishes everyone be able to convey his/her feelings with one another. During my lectures, while showing Miyapu's film, I've come to share that there are many ways to communicate.
And every time, I've received inquiries about the augmentative communication device. I've been asked, "I have a younger brother who hasn't been able to communicate for 9 years. Is there a way?" "My husband collapsed 20 years ago. I've continually been waiting for a miracle, but he still can't speak."
An elderly lady that I met in Matsue said, "When my husband stopped being able to talk, I thought writing was the only way to communicate, but his writing isn't legible because his hands shake."

But when I asked, "What other methods of communication do you use?" She said, "He waves his hands to express his dislike for something." I was surprised he could move his hands.

And when I inquired, "Does he seem to understand what you say?" She said, "Yes, he understands everything I say and he even laughs at Rakugo (Japanese comic storytelling). Then, I introduced her to an easier device than Let's Chat called, "Talking aid."
With this device, even when your hands shake and you push the keyboard several times, it counts it only once. I was told the elderly man could say his wife's name and "Thank you" from the beginning using this device. It made me very happy, but it also made me sad and frustrated.
Why did they have to be unable to communicate for so long due only to lack of knowledge? Thinking, if it were me or if I were a mother, brings tears. I can't bear that someone can't communicate for one minute, or even one second just because of lack of knowledge.
I thought of who was to blame. Was it the doctors or nurses? No, that's not it. They work so hard in saving people's lives. Even now they're supporting Miyapu's life. It's not possible that these doctors and nurses are to blame.
Then, are the care workers to blame? No, that's not possible either. It's not possible to look up something you don't know. If that's the case, and someone is responsible, someone is to blame, it's the people who know, but don't speak up. And I thought, this is me.
I've been working at a special needs school for a long time, so I knew many methods. I knew not only about the augmentative communication device, but the children taught me many ways the body recovers.
However, I hadn't shared this with many others until now. When I asked myself, if it would be all right as long as Miyapu was all right, the answer was "No." So, I started the Snow White Project.  Snow White was able to awaken with the help of the prince and the seven dwarfs. Therefore, I'd like to tell many people that with everyone's overflowing love, there are ways for those suffering from illness to recover and ways to communicate. The Snow White Project offers free downloads, such as one called, "Chat Note." It was created so even those with difficulty understanding the A I U E O (Japanese alphabet) system could communicate through the illustrations. We've also uploaded videos of how to care for people. I would like to try to demonstrate. Would anyone like to volunteer?
Thank you very much.
Actually, people don't know that there are possibilities for recovery, ways to communicate, or that the augmentative communication device exists. But now, those who've spoken with me at my lectures are each finding various ways to communicate.
Right now, there are many in the world, who are said to be bed ridden . And, there are many who aren't able to convey their feelings, even if they want to. There are many who are conscious, but the people around them don't notice. There are those who can't communicate because knowledge of the methods haven't yet spread. And, countless people have given up on trying to recover. I wondered what we could do. Those who know must speak up. Those who know, have a responsibility. They have a responsibility to tell people. My current dream is that all of us will be able to communicate our thoughts and will believe in the possibility of recovery.
Because, this isn't only Miyapu's story. Imagine, if you collapse tomorrow, you could be bed ridden and there is a large chance that you won't know how to communicate. This is what common knowledge is today.  But, I believe that we can change common knowledge. If you all take action as if it's your story, I believe we'll see changes in many things. Please lend your helping hand. Please support this cause.
Just as in the movie "The Miracle of the Gifted Quarter," which I spoke of earlier, I believe it's possible for our future children to walk in health towards tomorrow because of those who currently have an illness or disability. Love can make us very joyous and is a very important feeling. It would be wonderful if we could always remember the feeling of love and joy when we are with children or meet someone new. Thank you very much for today.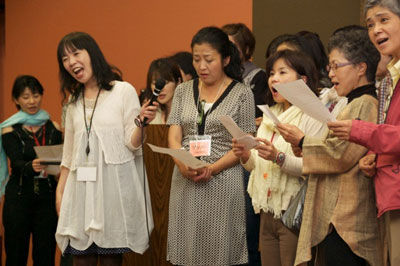 // Members of translation team
Alba Okada
Anthony Davis
Barry Henson
Chad Tsuyuki
Eiko Hamada-Ano
Fukiko Kai
Kaho Koinuma
Keiko Sugimoto
Masayo Koinuma
Mikko Arimoto Henson
Miyuki Kanazawa
Rika Davis
Satoshi Sone
Satoshi Ueda
Tony Bevan
Yukiko Ozaki
Yoko Ano