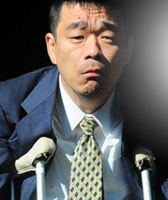 It's Joyous To Be Able to Communicate.
Takaki Yoshimura, the developer of the Hearty Ladder

What a lovely name! This is the first thing I thought when I heard the name of this project and the origin.
When I think of my life, I realized how lucky I was to have come across so many princes.
Without them I couldn't have worked or have had a happy life with my family.
I am currently developing software called "Hearty Ladder" with my colleague. It is one of the communication tools.
I myself have a speech disorder. I sometimes find it difficult to talk to someone. That's why I absolutely understand how delightful it is to be able to communicate with others. So it makes me happy to work every day with my invention, thinking a lot of the people who use "Hearty Ladder" and find the pleasure of communication.
I hope many people will find this project and more princesses will wake up.
Takaki Yoshimura
Profile of Takaki Yoshimura
Born on July 31st 1965.
Currently works for LABOTECH, Inc.
As a member of "Paso-Volu (volunteering through PC) Kokoro-no-Kakehashi (bridge between hearts)", Mr. Yoshimura develops "HeartyLadder", communication software, and provides support for its users.

Published Book
"Dreams Realized Through the P.C:  Life as a handicapped programmer", published by KOBUNKEN Co, Ltd.