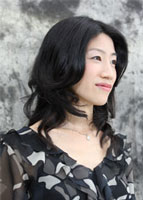 It is the love that can make miracles. It is a source of infinite power which sits deep in everyone's heart.

Yasuko Iwasaki: Film producer and president of Heart of Miracle, an incorporated non-profit organization.

I have been filming a documentary of Miyapu (Toshiya Miyata) who had a brain stem hemorrhage but is recovering remarkably day by day. The filming started four months after his stroke. I clearly remember the moment when I decided to create this documentary film.
Kakko-chan (Katsuko Yamamoto) who is a close friend of Miyapu, has been commuting everyday to the hospital where Miyapu is. She started contacting me often by mobile phone on her way to and from the hospital. At that time everyone thought he would be in a vegetative state for the rest of his life.
However, Kakko-chan always said, "He'll get better." What she told me was always very positive, "His thumb moved a bit today", "Tears came out from Miyapu's eyes while I was talking to him" or "I know he regained consciousness and knows everything" I felt something was happening, something very precious. And I instinctively said to Kakko-chan, "Will you please videotape him or even just take some photos? I wish I could do it by myself everyday."
Three years have passed since I started to shoot the Miyapu film. In the beginning his eyes were never open and it looked as if he could not hear and feel anything at all, while Kakko-chan said "Miyapu listens to everything." Well, look at him now. He can communicate with us using "Let's Chat", a communicating device. He's recovering further day by day.
I sometimes wonder how he would be now without Kakko-chan's support. I could never imagine how terrible it would be if we were immobile, couldn't even move our eyelids when we regain consciousness on the bed. It is beyond my imagination.
Even in that situation, Miyapu found some hope and went forward persistently. I think this would not have been possible without someone who had no doubt about the potential of his life and power, and had been with him for support. Interaction of human energy created harmony and made the impossible possible. It is the love that can make miracles, and is a source of infinite power which sits deep in everyone's heart.
I asked Miyapu, "Were you scared when you couldn't communicate what you were thinking or feeling while you regained your consciousness?" He said to me, "Not at all, because Kakko-chan was with me and I knew she would help me."
The Snow White project is the project which will help those who remain in the darkness of solitude all around the world. And it will support those people to regain happiness in their lives. I wish that everyone will be brimming over with happiness to support each other all over the world. I will do my best to support this project. I also will do my best to produce my film and contribute to the project.
Yasuko Iwasaki
Profile
She is the president of Heart of Miracle, incorporated non-profit organization; a coaching facilitator; and a film producer. She established the E・E project with Mr. Takahiro Ono to create documentary films for empowering people. She met Ms. Fumiko Irie and helped her to create a film "Miracle of The Gifted Quarter – Life's Truth Revealed". Over 120 thousand people watched the film by the end of 2011. The film has been shown by volunteers in non-profit screenings, and it is further extending through out the world. In 2008 she directed and completed a film "The Universal Principle – How Everything is Created with Love". In order to distribute those films, she established an incorporated non-profit organization, Heart of Miracle. In addition to film distribution, she wishes to create opportunities for people to communicate mutually through films.
The documentary of Miyapu & Kakko-chan
The latest version of the trailer for the Miyapu film "I Will Blaze A New Trail" (ver.1)
"Thank You", the first trailer of the Miyapu documentary
"I wish to Express My Thought", the second trailer of the Miyapu documentary
"Don't Give up, Please" the third trailer of the Miyapu documentary
The film distributor: Incorporated non-profit organization, Heart of Miracle
http://www.heartofmiracle.net/
(You can find screening schedules for the distributing films below)
Others
The first film production by the director Yasuko Iwasaki
http://www.ee-pro.net/movie/inochi.html
Blog "To learn Living a Life"
http://blog.livedoor.jp/iwasakiyasuko/
In Facebook, please search for "Yasuko Iwasaki"
In twitter, please search for "yasuko-i"
Ustream channel: "Harmony between People Creates Infinite Possibilities" presented by a facilitator, Yasuko Iwasaki, starting at 9:00 pm for a period of fifteen minutes on the last Friday of every month.
http://ustre.am/EWYe